Building Power: Transportation with The Street Trust
Thursday, August 30, 2018 at Hopworks on SE Powell
For our August B Learning Lunch, we heard from Jillian Detweiller, Executive Director, and Justin Yuen, Board Chair, of local nonprofit organization The Street Trust. The Street Trust is "a movement for people who choose to travel and experience the Portland region by biking, walking, or riding transit."
Jillian began the talk by giving some history about transportation in the region, and noting that transportation is something that touches all of us, and is deeply impactful on the environment.
28% of greenhouse gas emissions come from the transportation sector. Biking, walking, and using transit for commuting and getting around is not only better for the environment, it is also good for health, budgets, and for bringing more joy.
The Street Trust's mission is to expand these options for transportation to more people. It works to fulfill this mission through 3 core program areas:
Education
Teaching bike safety in Portland Public Schools.

Oregon Friendly Drivers course - teaching commercial drivers to help drivers understand other users of the road, and why cyclists or pedestrians behave the way, and what is the law.

Rules of the Road - an intensive clinic concerning Oregon bicycle and pedestrian laws, insurance information, and what to do if you're in a crash.

Bike Commute 101 - usually during the Bike More Challenge, these are sessions hosted at workplaces to teach employees about the basics of bike commuting.
Encouragement
Bike More Challenge in June is a way to get more people interested in riding through friendly competition, especially through workplace involvement and sponsorships. 12,000 participated this year, including 2,000 new riders.

Inclusive programs - such as the Women Bike program (online Facebook group) which includes rides & meetups to be more inclusive to women who want to get involved in cycling.

Access to Cycling program - connects with culturally-specific programs, mostly with youth, to bring bikes to these groups. For example, they ran a summer camp for kids who are Rosewood Community Development in East Portland.
Advocacy
This is the most visible and well-known part of the organization. One of the ways The Street Trust has amplified its influence more recently is by setting up a new 501(c)4, the Street Trust Action Fund, which is able to take more political actions and stances on behalf of biking, walking, and transit.
The Street Trust was part of the movement that helped pass HB2017 in the last legislative session, which included 125 million for Safe Routes to School. Communities around the state can apply for funding to fix dangerous intersections and improve bike and pedestrian infrastructure. The bill also includes $1B for transit statewide. New offerings are already being implemented, such as the new low-income transit fare, which makes it affordable for everyone to access the transit system. There are new Trimet services, such as the first 24-hour service, including to the airport.
Preparations are being made for another vote of the people to expand transportation investments in the region - Metro has said it intends to seek voter support for a transportation package in 2020.
The Action Fund just announced its first political endorsements in the Portland City Council race for Jo Ann Hardesty, and Kathryn Harrington for Washington County Chair.
Justin Yuen then led a discussion amongst B Corp companies in the room about how business plays a role in transportation. What are people saying or doing about congestion? Are there trends or ideas for reducing it?
To frame the discussion, it was noted that there is a specific question on the B Impact Assessment that you can get points for promoting and facilitating non-car commuting. The question:
Does your company have any programs or policies in place to reduce the environmental footprint from travel or commuting?
Some ideas from the group around how this plays out in the workplace include:
Biketown bike share is a great option and makes getting around more convenient, and for an affordable price. They also offer corporate plans.

Implement a sustainable travel policy limiting corporate travel at your company.

Incentivize biking by offering reimbursements for a new bike or bike gear.

Offer direct incentives for not taking a car, for example, every day that an employee takes an alternative mode to work rather than driving, give them $5.
Q&A with The Street Trust
What is your take on scooters?
Officially, The Street Trust is in support of the pilot program by the City of Portland. Any mode getting people out of a vehicle and into public space is beneficial and makes more space for people rather than cars. We are overall supportive, but there are definitely concerns about the use of sidewalks, helmet law clarity and enforcement, and equity/access. the city is doing a good job of requiring scooters to be available in more underserved areas of the city. Overall we are excited about the pilot - it's a spark that shows that things can be done differently.
It seems like bus lines have become so complex and aren't really serving the people. What can be done?
One of the key things we'll be focusing on in the next year or so is something we might call "Getting Buses out of Traffic Now." We are beginning to fix some of the troublesome spoke-and-wheel model for buses. Currently buses do not get priority and are stuck in traffic, it takes just as long or longer to get somewhere by bus, instead of preferential treatment being given to buses that are carrying 30-50 people rather than 1 or 2 people in a car. There is money available, but it takes political will to reallocate this money for this campaign. This was one thing we looked at when deciding where to support candidates for office.
What is your position on tolling?
The transportation bill passed last summer required that ODOT look at congestion pricing or value pricing, using tolling on I-205 from the Columbia River to Downtown I-5, Abernathy Bridge. Tolling is typically used to generate money to build wider freeways, but it can also send market signals to manage demand. We are concerned about equity, but officially The Street Trust is in favor of tolling to manage demand and to invest in walking, biking and transit. It will be a very long road to tolling.
How to get involved with The Street Trust:
Attend the Alice Awards.

Sign up to volunteer.

Recruit for the Bike More Challenge
Photos from the August B Learning Lunch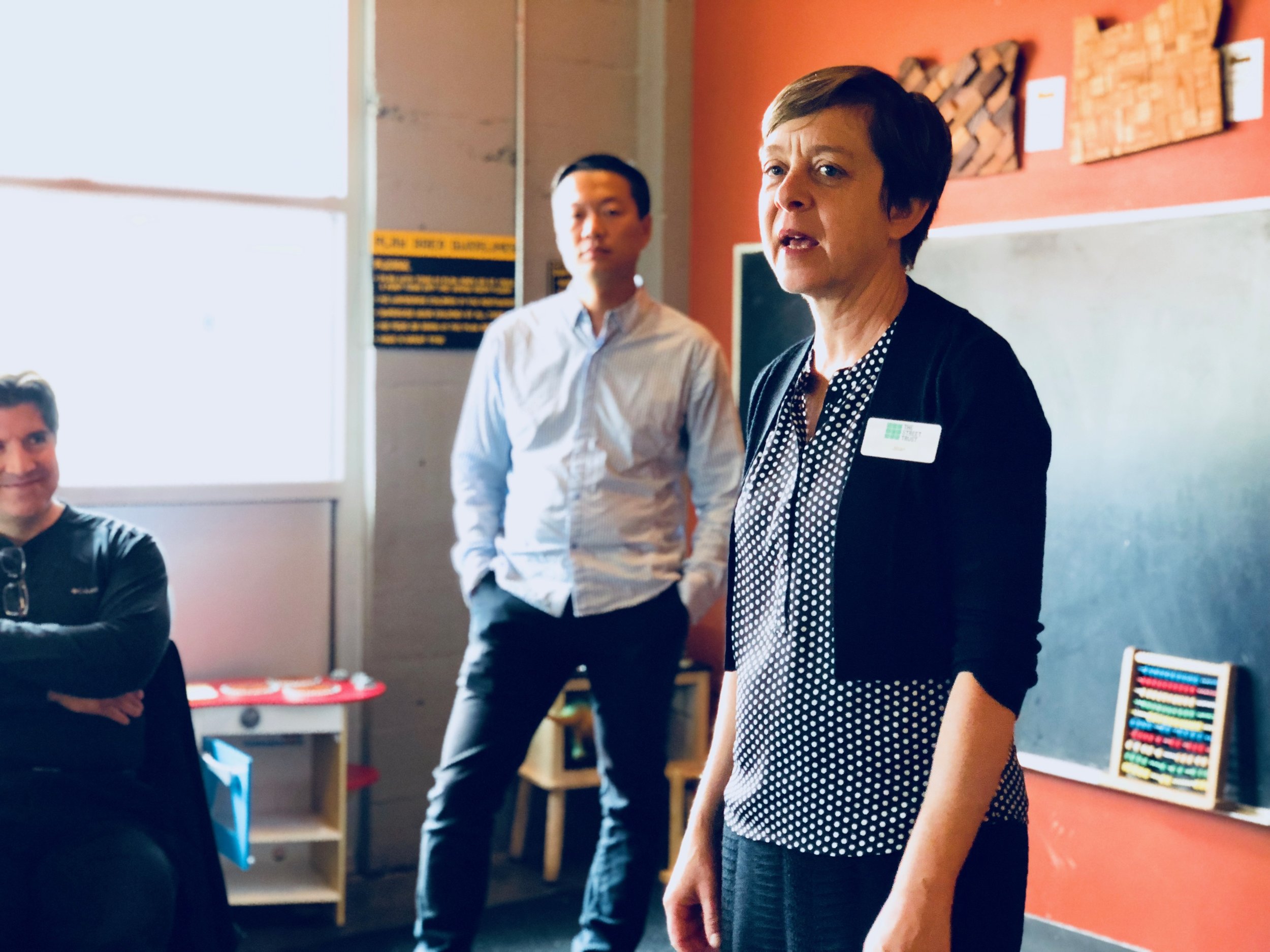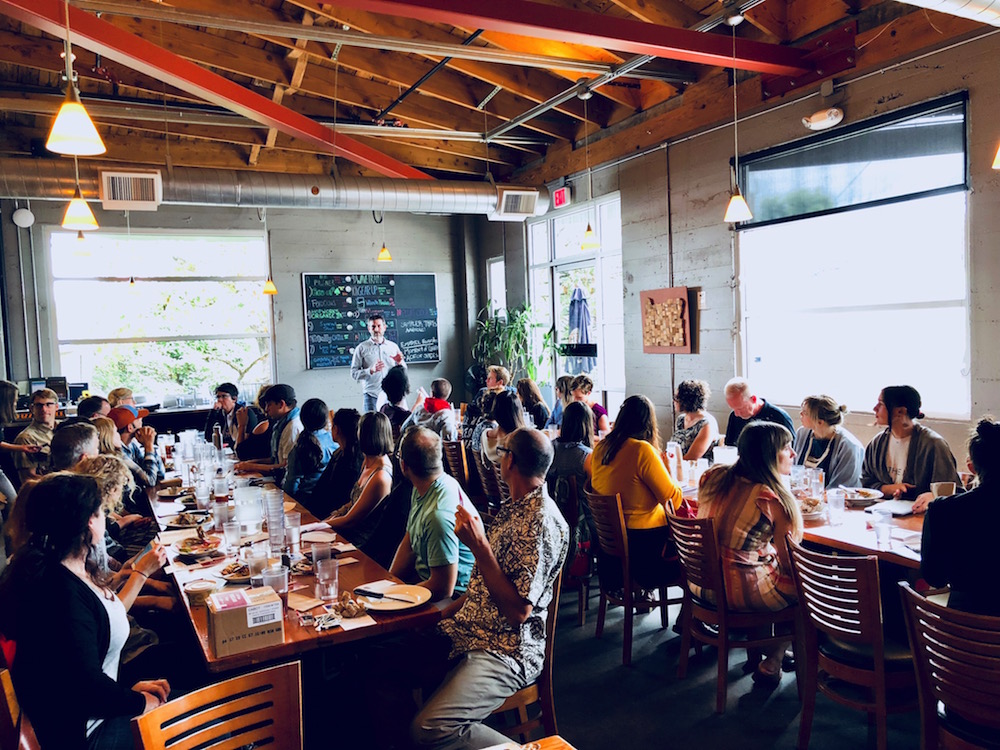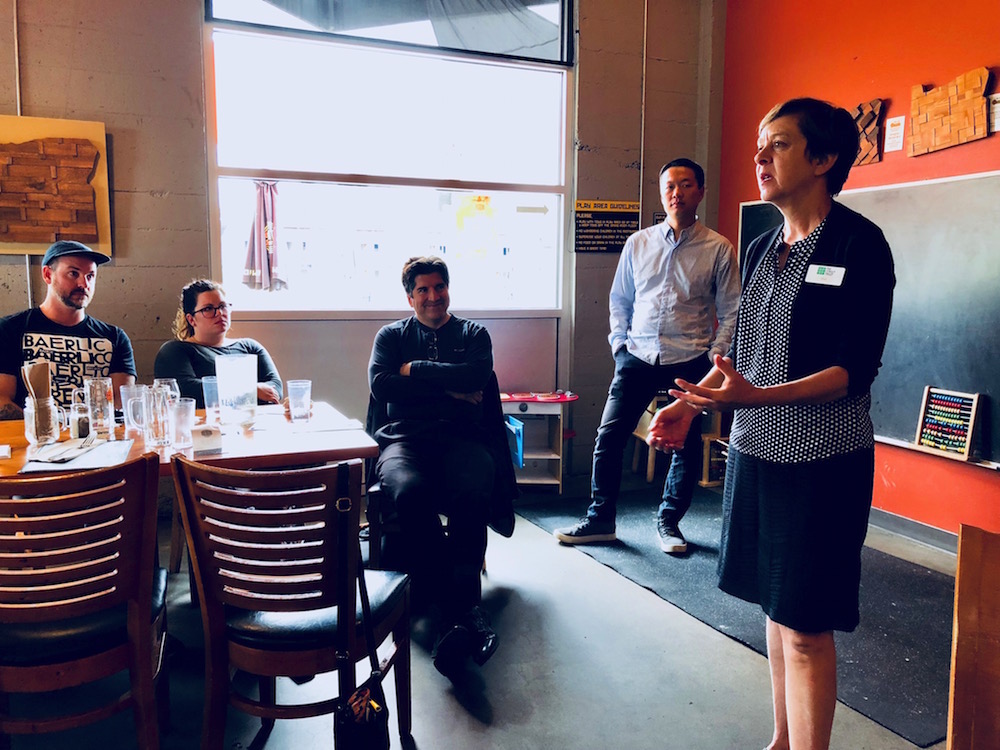 Thank You, Canvas Host!
We also want to offer a big thanks to Canvas Host for sponsoring our lunches and supporting collaboration and learning to increase our social and environmental impact.