US
A Collection of Immigration Stories from our B Corp Family: Their Journeys, Experiences, and Reflections on Home
Thursday, July 26, 2018 at Hopworks on SE Powell
This month we wanted to take a moment to share more about the book we have created as a community called US, A Collection of Immigration Stories from Our B Corp Family: Their Journeys, Experiences, and Reflections on Home. Throughout the process of this project coming together, we were inspired by the amazing life experiences that were being shared. Having these conversations challenged our thinking in ways we were not expecting. We wanted others to be able to share in this exploration and discussion with us, so the book of stories became an engagement tool.
During the lunch, we broke out into small groups to read a story from the book and used it to inform a discussion based on the questions in the book. The goal being to provide all the participants with enough information to bring this resource back to their businesses or other communities and facilitate a discussion with colleagues or friends.
The Joinery is now selling copies of the book on their website. All profits will be donated to Oregon Healthcare Interpreters Association, a local organization who is working to provide training to immigrants, refugees, and asaylees to become healthcare interpreters and contribute to their community while gaining valuable skills. Click here to purchase a copy and support this wonderful organization. If you are interested in buying books for your business to use for a small group discussion, we are selling them in groups of 10 for $100. Please contact Kelsey Moody (kelsey.moody@thejoinery.com) for more information.
To celebrate the collaborative effort made to create this amazing resource and the participants who shared their stories, The Joinery will be hosting a party on September 18th at their downtown showroom. More details to come.
We were so thrilled at the level of engagement in this month's B Learning Lunch. Thank you to all of those who joined us and participated in meaningful discussion around how we can best support the immigrant community in our area and beyond.
Photos from the July B Learning Lunch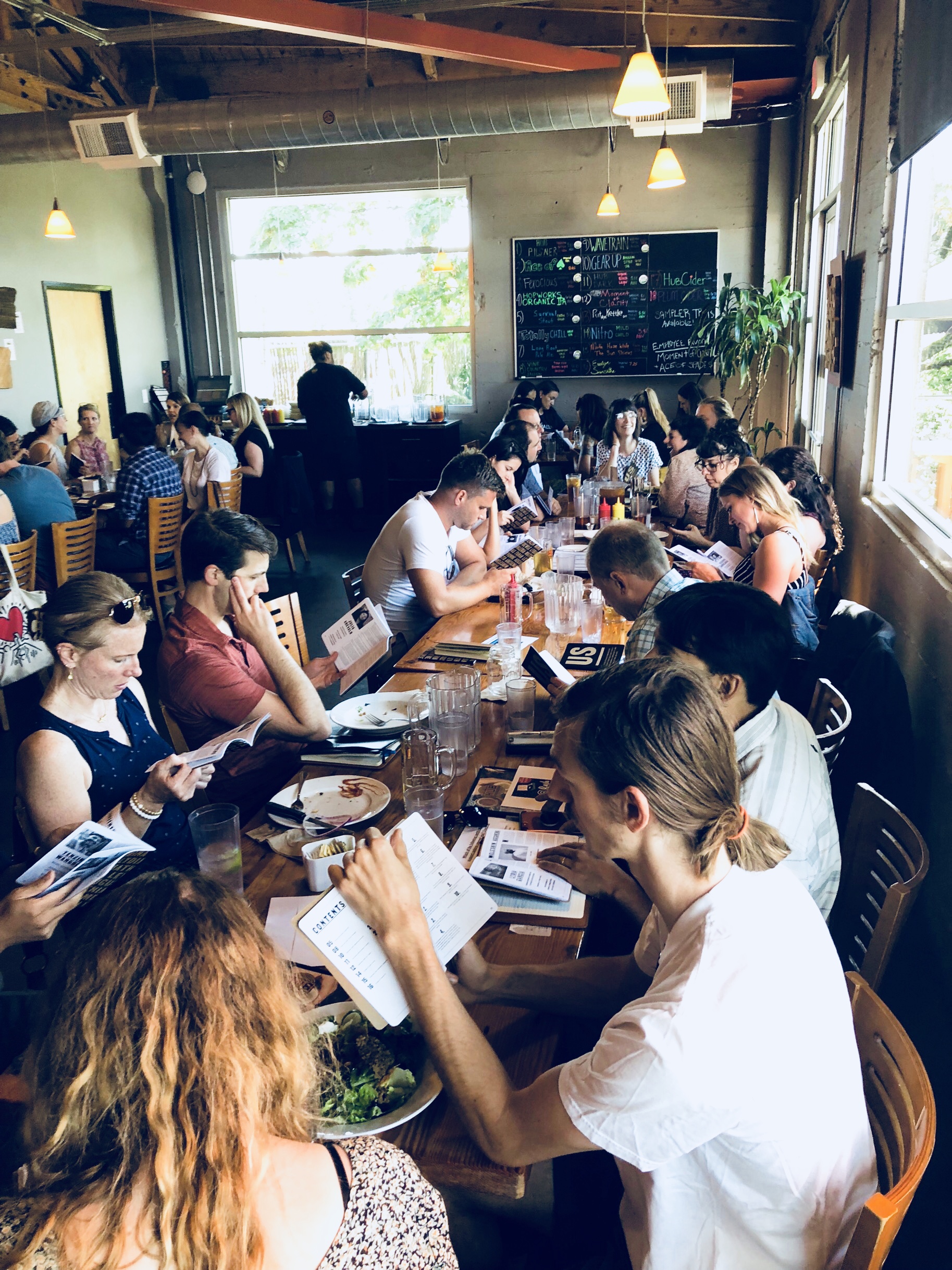 Thank You, Canvas Host!
We also want to offer a big thanks to Canvas Host for sponsoring our lunches and supporting collaboration and learning to increase our social and environmental impact.